Division and Department
Department of Dermatology and Plastic Surgery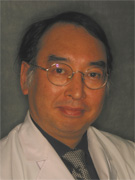 Motomu MANABE, M.D., Ph.D.
A Greeting from the Chairman
Dear Friends;
Our department is recognized nationally as a vital contributor to the field of dermatology/plastic surgery and is the largest referral center in Akita Prefecture. Our clinical faculty, along with our staff and fellows, provides services to patients with skin conditions in an atmosphere of compassion and respect.
In our department, we aim to: 1) deliver the highest quality of care to patients by applying up-to-date diagnosis and treatment, 2) train medical students and dermatology residents to pursue clinical dermatology, dermatopathology, dermatosurgery and cosmetic dermatology under the guidance of board-certified dermatologists and plastic surgeons, and 3) advance the frontiers of knowledge concerning the pathogenesis of skin diseases by applying cutting-edge science.
We have a comprehensive department and training program that covers all present and evolving aspects of dermatology. The program provides both a large and well-balanced clinical load, as well as a scholarly environment in which the new frontiers of medicine are unraveled daily in the laboratory and in the clinic.
Thank you for taking the time to tour our website, which reviews our services, clinical activities and research initiatives. If you require additional information, please contact us.
Warmest regards,
Staff
Professor and Chairman:
Motomu MANABE, M.D., Ph.D.

Associate Professor and Vice Chairman:
Yoshihiro UMEBAYASHI, M.D., Ph.D.
Research Areas
Cellular functions of proto-oncogenes and tumor suppressor genes
Rejuvenating of hair follicles
Contact Information
Phone: 018-884-6153
Fax: 018-836-2618
E-mail: dermatol@med.akita-u.ac.jp