Division and Department
Department of Gastroenterological Surgery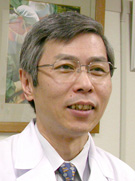 Yuzo YAMAMOTO, M.D., Ph.D.
A Greeting from the Professor
Welcome to our home page and thank you for having interest in our department. Our department deals with surgical therapy for cancers in the gastrointestinal tract and hepato-biliary-pancreatic regions.
The functions of our department are 1) clinical duties, 2) education (undergraduate and postgraduate) and 3) basic surgical research. One of our major concerns is the innovation of surgical therapy regarding the liver, biliary tract and pancreas cancers. To accomplish radical resection of advanced neoplasms in these areas, extensive surgery using techniques of vascular surgery and transplantation is often mandatory. Besides these surgical techniques, control of surgical stress plays a key role in minimizing tissue damage during surgery. Our department, therefore, places great importance on efforts in academic surgical research to develop innovative strategies for organ protection as well.
Because surgery is a therapy bringing dramatic results on one side but giving high stress to patients on the other side, its clinical validity rests on the maintenance of a risk/benefit balance. Therefore, the philosophy of our department is based on two concepts: 1) Human conviction and passion to support patients through surgery, and 2) Research potentials to improve surgical science.

We welcome new members who are willing to contribute to human health care through surgical specialties.
Staff
Professor:
Yuzo YAMAMOTO, M.D., Ph.D.

Associate Professor:
Hiroshi UCHINAMI, M.D., Ph.D.

Lecturer:
Hideaki MIYAZAWA, M.D., Ph.D
Research Areas
Surgery of the liver, biliary tract and pancreas


Translational research (Phase I Trial) of peptide vaccine therapy for bile duct cancer.
Investigation for the compensative ability of endocrine function after pancreatic resection using SUIT (secretary units of islets in transplantation) index.
Investigation for the interaction between mitochondrial K-ATP channels and Ca channels in the hepatpcyte during regeneration after hepatic resection.

Surgery of the digestive tract


Clinical research on new techniques for endoscopic surgery (gastric cancer, colorectal cancer).
Practical education system for endoscopic surgery (integration of visual comprehension, anatomical interpretation and skill learning).
Clinical research for systemic chemotherapy against gastric and colorectal neoplasms.

Surgical stress and stress responses


Molecular mechanism and therapeutic approach against ischemia-reperfusion injury of the liver.
Preconditioning to induce stress tolerance of the liver.
Stress response in the stem cells derived from the liver.
Contact Information
Professor Yuzo Yamamoto, M.D., Ph.D.
1-1-1 Hondo, Akita 010-8543, JAPAN
Phone: +81-18-884-6126
FAX: +81-18-836-2614
E-mail: yy@med.akita-u.ac.jp